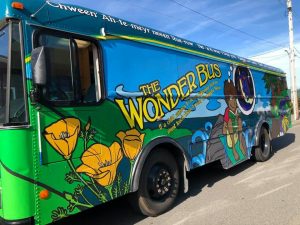 The mission of the Wonder Bus is to travel throughout Del Norte County to develop learning partnerships with the parents and caregivers of all children—especially those ages 0-5, whose brains are growing so fast. In an effort to promote the First 5 California "Talk, Read, Sing" Community Campaign, the Wonder Bus provides story time, songs, finger play, crafts, games, and toys—all in support of early literacy and school readiness.
Given these community literacy goals, parents and caregivers are encouraged to check out books for reading aloud at home. Additionally, community members who donate new, and gently used, children's books to the Wonder Bus are greatly appreciated!!
Parents and Caregivers are asked to fill out an Annual Wonder Bus Registration Form and a Parent/Caregiver Survey in order for us to place you on the monthly email distribution list of the Wonder Bus calendar. The survey helps us to know how best to serve you.
All children receive a FREE brand new, or gently used, children's book
of their choice when they visit the Wonder Bus.
Thank you for your support of the Wonder Bus!!