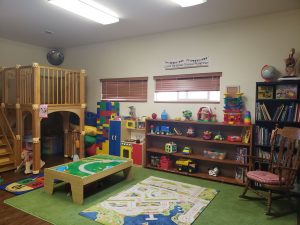 The Del Norte Child Care Council offers a Toy Room and Lending Library for families and child care providers.  The Toy Room is full of a wide variety of toys including a play kitchen, workbench, dolls, puzzles, games, music, infant toys and much more.  
Families and child care providers are invited to come play in the toy room Tuesdays from 9:00-12:00, and may join our lending library for a small fee, allowing you to borrow toys.
Del Norte Child Care Council also has a video and book library, which contains many items for your child's enjoyment, as well as helpful parenting resources.
You may join the Lending Library during regular Toy Room hours, any Tuesday from 9:00-12:00.  There is a contract to sign and small fee of $5.00/year for families, $10.00/year for family child care providers, and $15.00 /year for preschools and centers.
How many toys can you borrow?
Families may borrow up to three items.  When returned clean and on time you may increase the number of items by one each time you borrow, not to exceed 8 items at any one time.  Items are borrowed for a period of 2 weeks.
Child care providers may borrow items for up to one month, with the same terms and conditions as families.